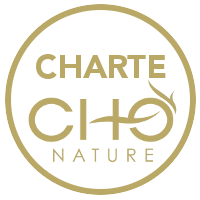 As no specific regulations for organic cosmetics have been established, professionals organized themselves and created labels, usually by country, some not-for-profit, others not, and none with an international presence. Since February 2016, an ISO (international) standard has been established and will be finalized in Spring 2017. 
After having been the first French brand to be certified by Natrue, we decided to follow this international standard ISO 16128. We are waiting for the final text of 2017. 
We always want to develop all our products according to a known and recognized reference system that ensures the total security of our customers. 
We will never compromise the quality of our products.
In compliance with the obligations set forth by the European regulation N°1223/2009 on the Good Manufacturing Practices (ISO 22716), we have drawn up the CHO charter in which we take the following commitments :
1. The choix of raw materials :
All vegetable oils are of organic and certified origin 
All butters, waxes are of organic and certified origin 
Essential oils are first chosen for their chemicals and olfactory qualities, we prefer the organic origin.
All processed natural raw materials such as esters are accepted by all existing labels.
2. Formulation options :
Limiting the ingredients to water, natural substances, naturally occurring processed substances and nature-identical substances. 
100% of products are either natural or organic.
More than 90% of the ingredients are natural or of natural origin. 
More than 90% of the vegetable ingredients are of organic origin. 
Creams contains at least 30% of organic raw materials.
Milks contains at least 20% of organic raw materials.
3.  Manufacturing options :
Using ultra pure water, CHO water is natural and non organic. 
No use of animal experiments.
Our formulas do NOT contains : 
Paraben
Perfume (except the ones from essential oils),
synthetic dye,
Alcohol (Ethanol)
Phenoxyethanol,
Phtalate,
Mineral oils,
Silicone,
GMO
Nanomaterials